Just starting out?
Begin here to learn how to create your account, organizations and projects. Continue reading to learn more about all of the features available in Wildlife Insights!
How data is structured in Wildlife Insights
You may be asking: what are organizations and projects, and how do they relate to each other? To answer this, we need to look at how data and people are organized in Wildlife Insights.
In Wildlife Insights, every user must be associated with at least one organization. An organization is the top-level entity in Wildlife Insights. Within an organization, you can create one or many projects. In Wildlife Insights, a project is a set that has defined objectives, methods and preferences (including licensing and embargoes), which can be set in the Project Details page.
There may be several locations and deployments associated with a project. A location is the physical location of a camera. A deployment is the placement of a camera within a specific timeframe. All deployments are associated with a location. Data uploaded into Wildlife Insights will be uploaded to a deployment.
Create an Account
If you'd like to use Wildlife Insights to manage and share your camera trap data, you first need to set up an account. To set up an account, click on "Account" in the top right hand corner of the screen.
At this time, all new accounts must be approved before they are activated. While Wildlife Insights is in beta, new accounts will only be approved for members of our Trusted Tester program. If you're interested in applying for our Trusted Tester program, please send our team details about your great projects!
Create an Organization
The first time you enter your account, you'll see that an organization has already been created for you. By default, you are assigned as Organization Owner. You can add organization details and change the organization name by navigating to the Organization Details page. This page can be found by opening the "Projects List" tab on the left side of the screen or by scrolling down the main page to the area below "Project Name" and clicking the organization name. Once on the Organization page, you can navigate to the "Details" tab to edit your organization information.
Create a Project
To create a project, you can either
1) Open the "Projects List" tab on the left side of the screen and selecting the "Add new" button at the bottom of the tab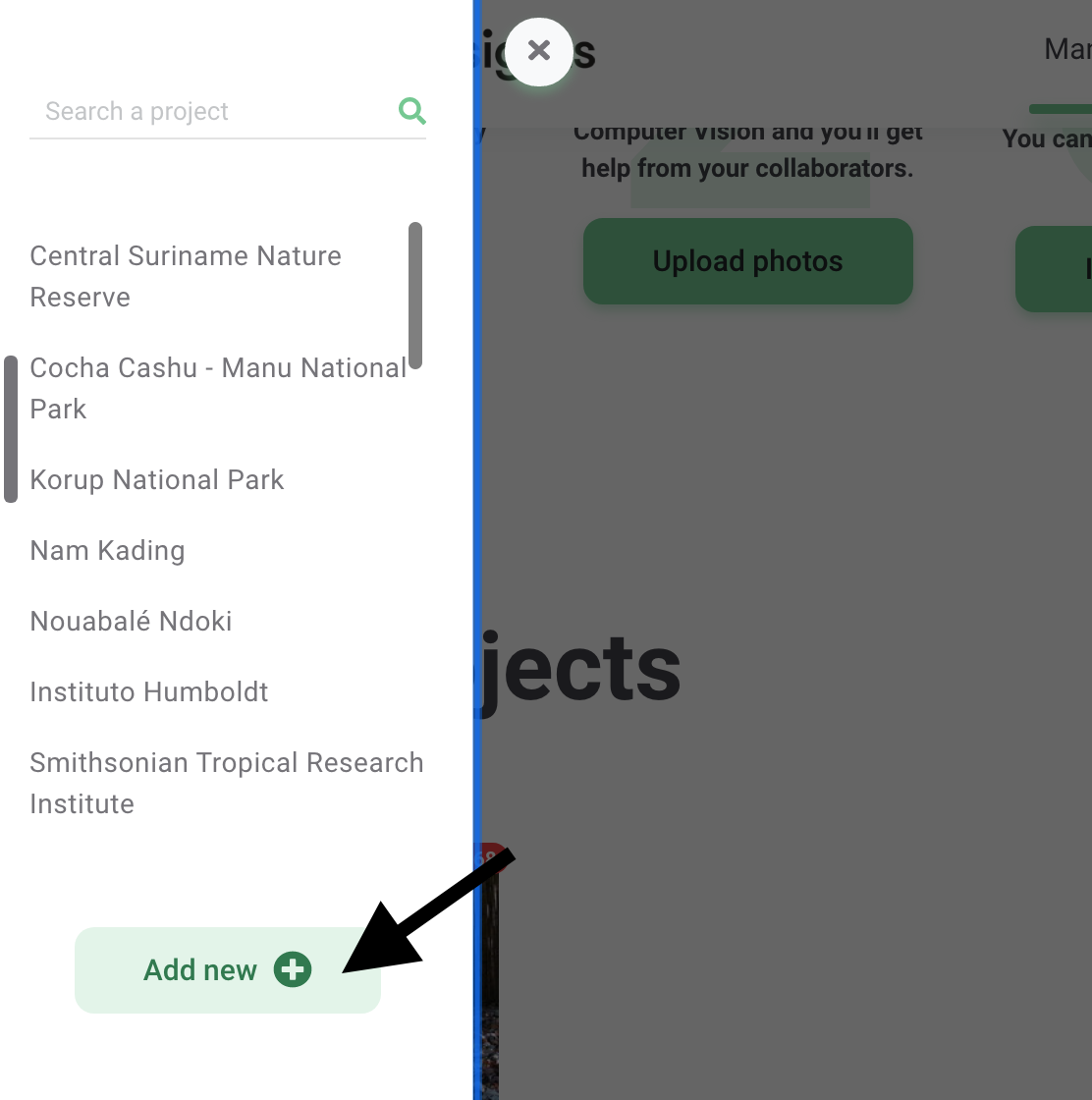 2) You can navigate to the homepage from anywhere in the platform by clicking on the "Manage" button in the top left hand corner underneath the Wildlife Insights logo. Once on the homepage, you can click the green "Create" button underneath the large green #1 and select "New project"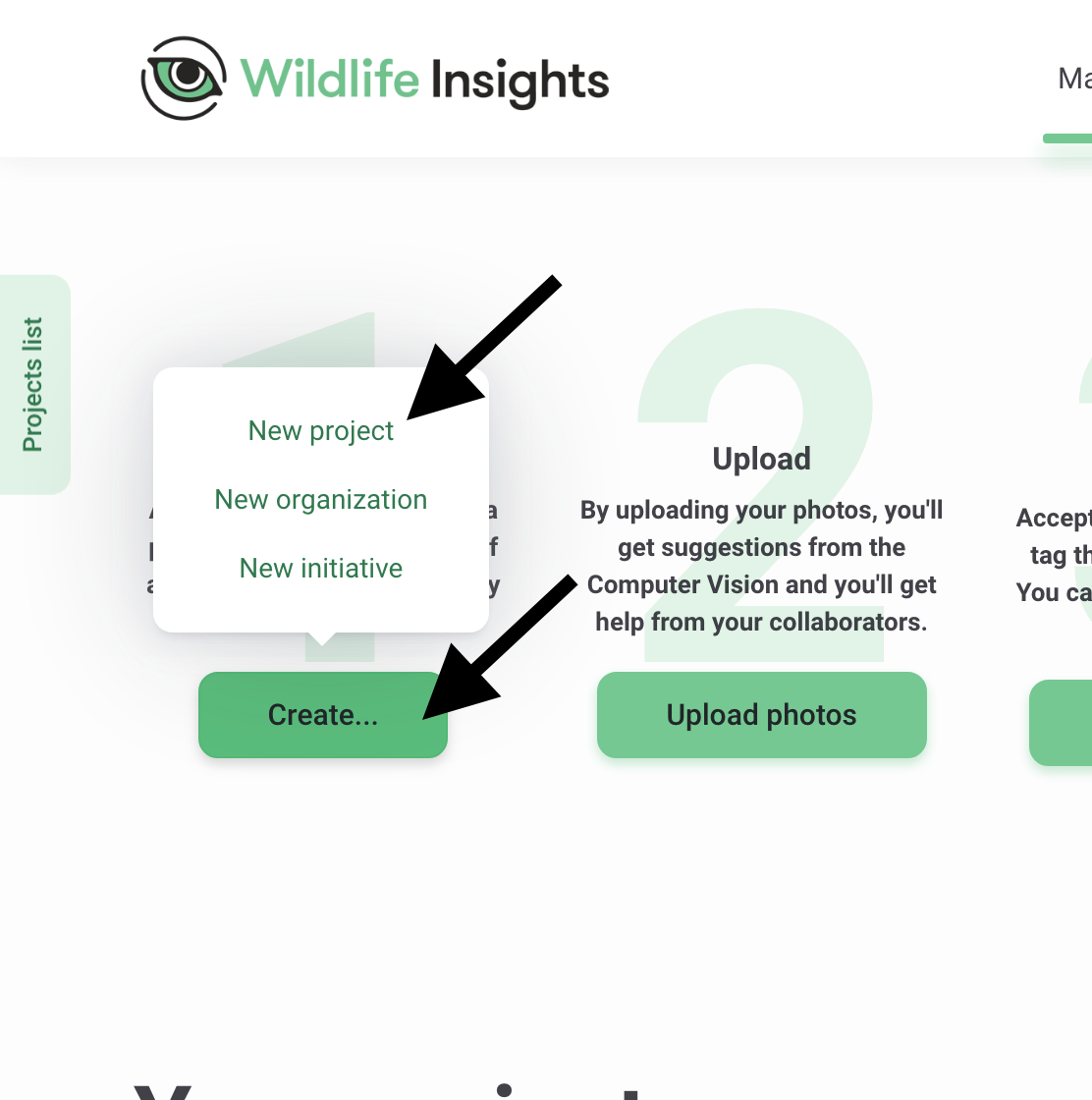 Sharing data in an initiative
One of the benefits of Wildlife Insights is how easy it is to collaborate and share data with other organizations! For example, if there were several organizations working to monitor tigers in Southeast Asia and they wanted to share information with each other, they could create a "Southeast Asia Tiger Initiative'' within Wildlife Insights and share select projects with each other. When a project is assigned to an initiative, it means that all the data in the shared projects can be seen or accessed by other initiative members.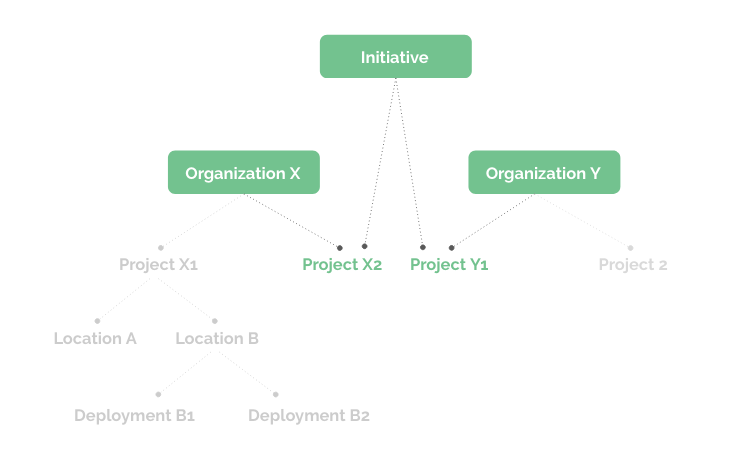 Create an initiative
To create an initiative, you can follow the same workflow as creating a new project or organization. Once you add all of the relevant details on the initiative details page, projects can then be added to the initiative. Only users with project Owner or Editor roles can add a project to an initiative. This can be done on the project details page.
One of the key differences in creating an initiative is that all of the details entered on the initiative details page will be used to create a public-facing webpage for your initiative. The public page is automatically created for you, so you can easily share all of your great work with the world!
With the public initiative page, you can display the best of your camera trap photos and upload logos of partner organizations so everyone is acknowledged for their hard work!