Project overview
Any time you upload data to Wildlife Insights, you'll upload data to a project. A project is a group of (or a single) camera deployments with a defined objective and methods. The project space in Wildlife Insights is where you can manage, edit and review metadata related to locations, deployments and data sharing.
Navigating the Project workspace
Summary tab: The project summary tab displays a map of all locations, an overview of data within that project.
Details tab: This is where you can set and edit project details including the project name, objectives, data licenses, embargo time, sensor layout, and set options to delete human images. This is also where you can add and edit Deployment and Location information (required fields).
Identify tab: All data uploaded to Wildlife Insights through the web-based upload will show up in the Identify tab. These images have passed through the AI model and are ready for a user review. You'll see all of the project's images here and can filter by deployment, species and blanks.
Catalogued tab: All of the data that has been reviewed by a user will be stored in this section. Only data from the project you're viewing will be shown here.
Download button: You can easily download all of the data from the entire project by clicking on this button and selecting "Request data". To download data from the entire organization, go to the Organization page to request data.
User Permissions button: This button will open a screen where you can invite users to join your project.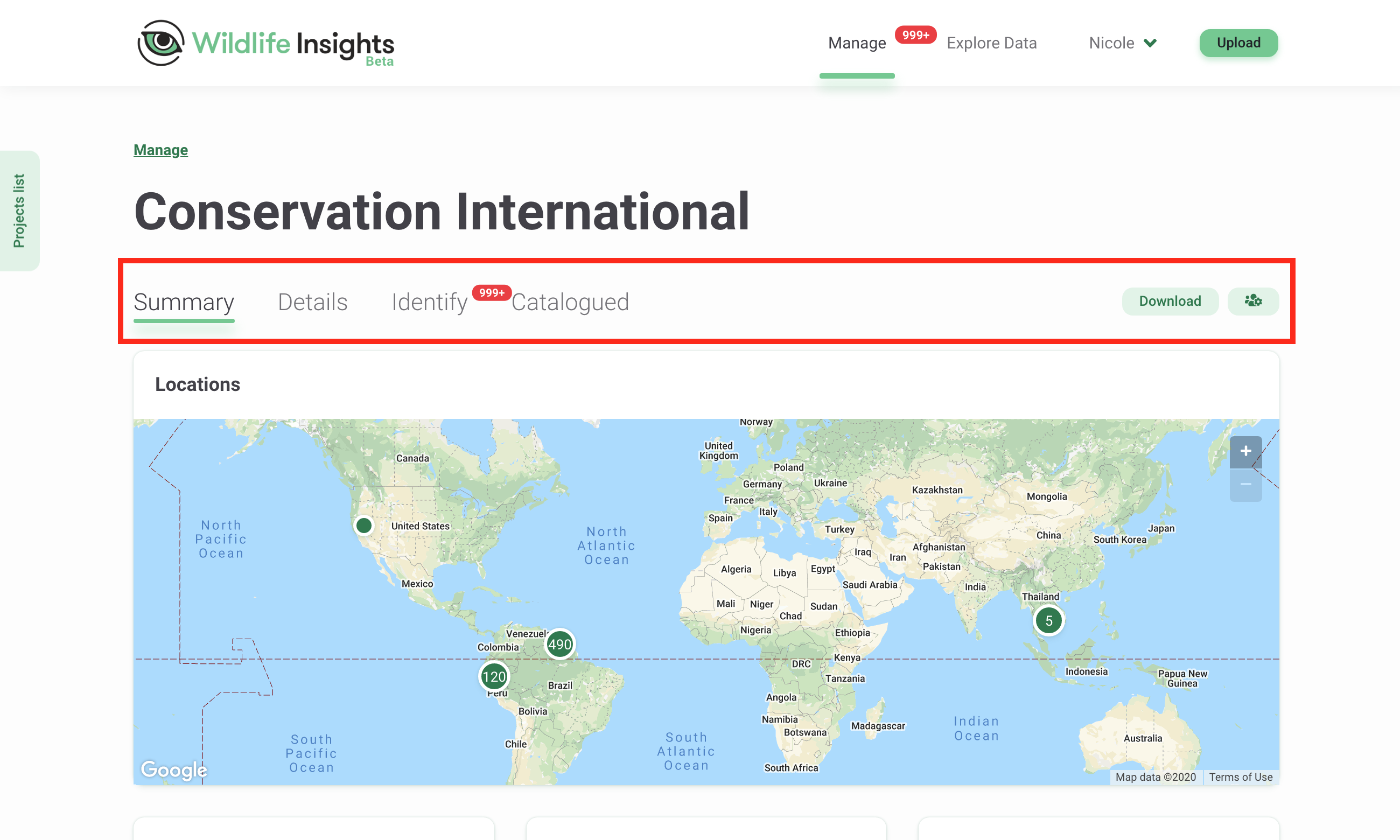 Create a Project
To create a new project, you can:
1)Open the "Projects List" tab on the left side of the screen and select the "Add new" button at the bottom of the tab. Select "New project" or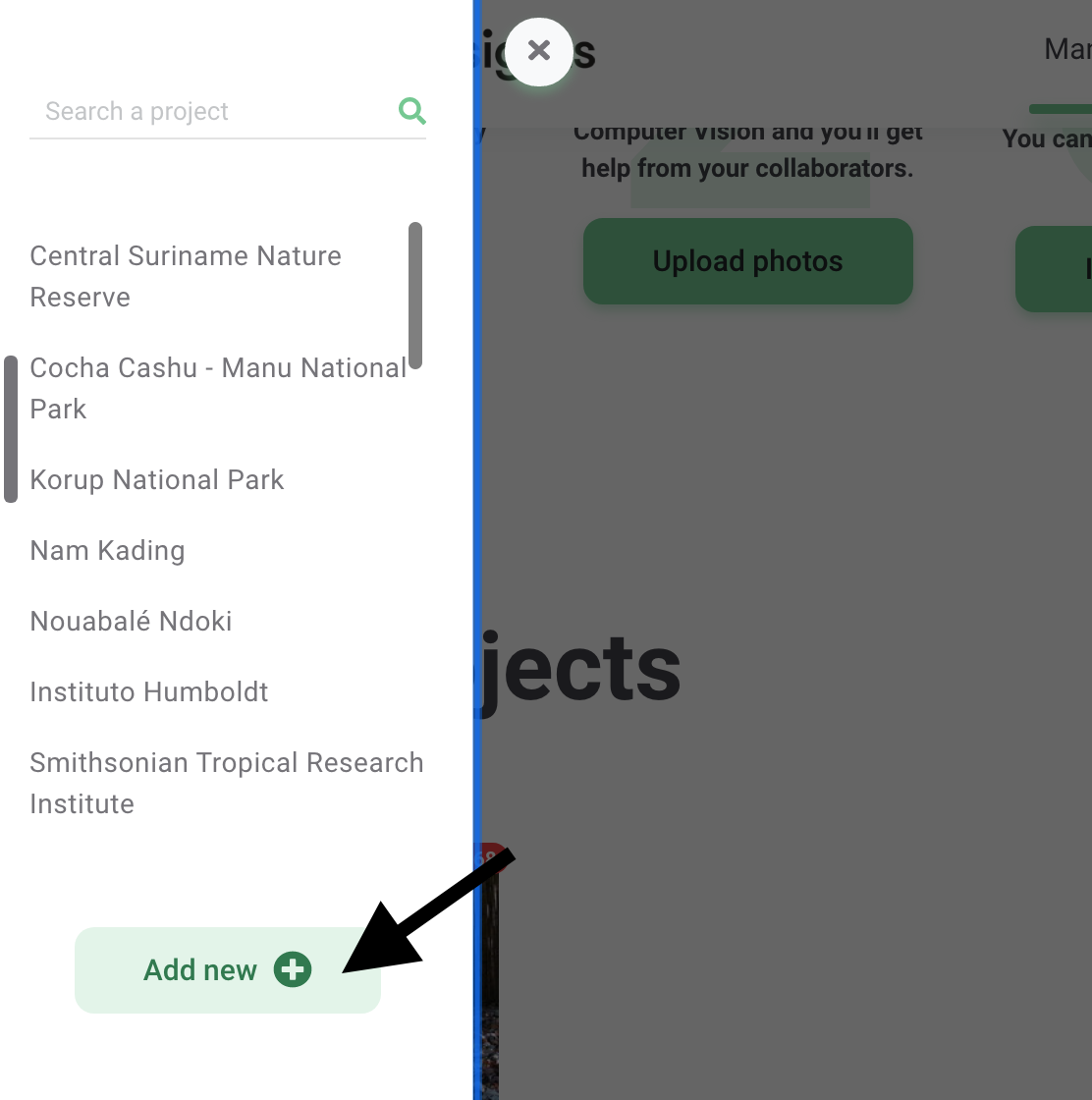 2) You can navigate to the homepage from anywhere in the platform by clicking on the "Manage" link at the top of the page. Once on the homepage, you can click the green "Create" button underneath the large green #1 and select "New project"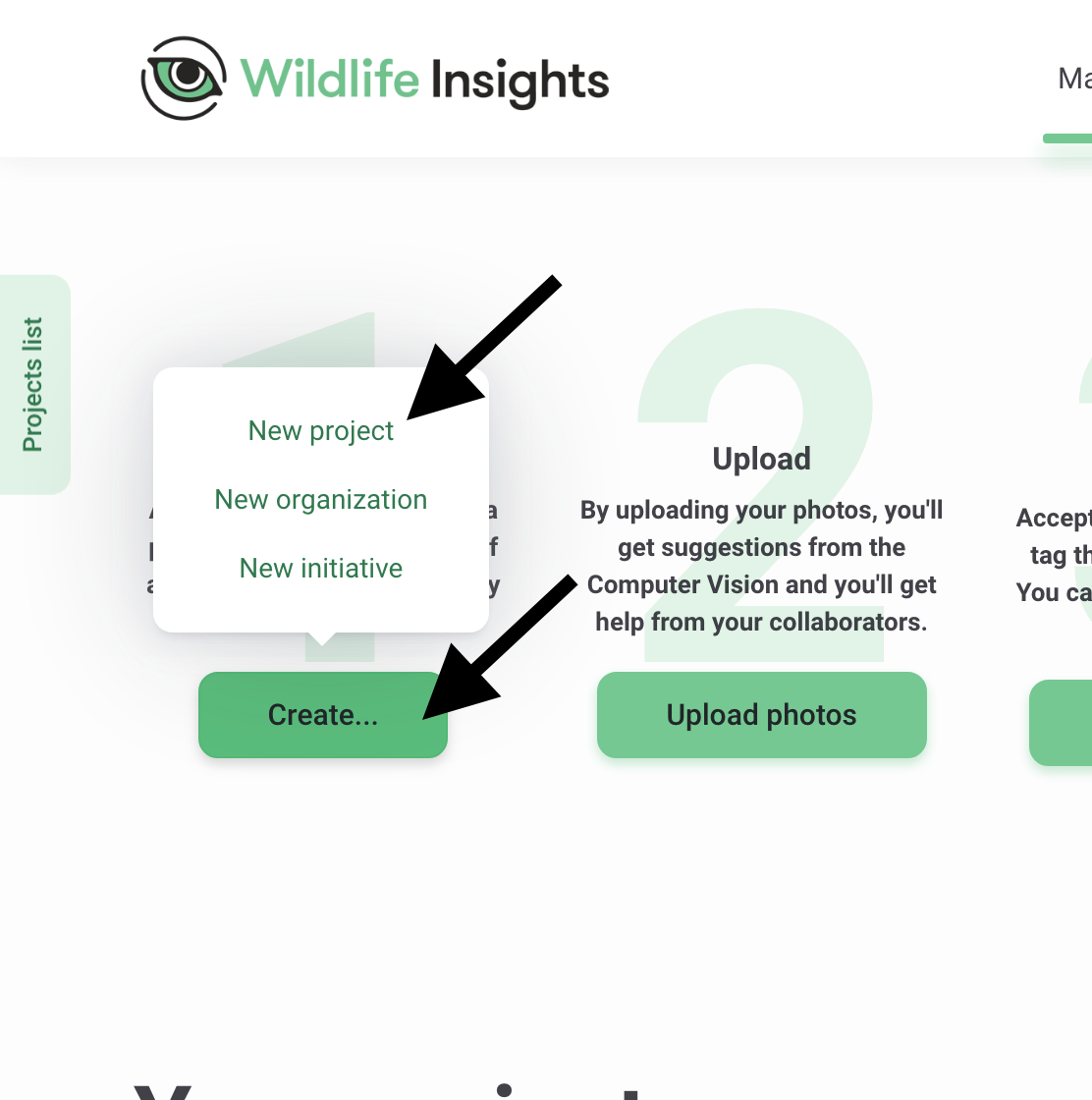 Embargo
Wildlife Insights encourages users to share their data publicly but also recognizes the need to publish data before sharing. You can choose to embargo data for 24 months before the data is made public by entering the number of months in the Embargo field in project details. You can request an additional 24 month embargo (for a total of 48 months) by contacting Wildlife Insights at [email protected] Embargoed data will not be available to the public for the duration of the embargo, but project metadata (e.g., project name, objectives) may be shared with the public. Read more about embargoed data in our FAQs
Creative Commons Licenses
For each project, you can select how you want to license your data under these Creative Commons licenses:
Images (recorded data) may be licensed under CC0, CC BY or CC BY-NC.
Metadata may be licensed under either CC 0 or CC BY.
These licenses are described below:
Creative Commons Zero (CC0) permits a user to share, adapt and modify the work, even for commercial purposes, without asking permission
Creative Commons Attribution 4.0 (CC BY 4.0), which permits a data user to share and adapt material with appropriate attribution, including for commercial purposes
Creative Commons Attribution-NonCommercial 4.0 (CC BY-NC 4.0), which permits a data user to share and adapt material with appropriate attribution, only for noncommercial purposes
Public latitude and longitude
The Wildlife Insights public Explore page displays a map with points indicating a project. The location displayed is determined by calculating the geometric mean of the fuzzed deployment locations within your project. For some projects located close to country borders, this may mean that the Explore page displays your project in an incorrect neighboring country. You may manually set the Explore page location in these fields.
Delete images of humans
Wildlife Insights provides the option to hide or delete images of humans for organizations with data privacy restrictions. If you'd like to remove images of humans from your workspaces, select this option. Images of humans will be deleted only after a user has verified the identification as a human. If this option is not selected, images of humans will be hidden from users with a project viewer role.
Managing Locations and Deployments
When you upload images to Wildlife Insights, you'll be prompted to select a deployment and location or create a new deployment and location. You can edit these deployments and locations at any time by going to the project details page and scrolling to the bottom. You'll see a list of Locations and Camera Deployments. Scroll through the page list, find a deployment or location to edit and click on the green Edit button. Once you've made your edits, click Save Changes.Deployments and locations cannot be deleted once they are created.
Join an existing project
If you would like to join an existing project, you must be invited by a Project Owner or Editor.
Invite someone to join your Project
Once you're viewing the project summary page, you can add users by selecting the green people icon button, located on the right side of the screen. This will open a "Users permissions" box where you can invite users by entering their email There are three roles that you can assign at the project level: Owner, Editor, or Viewer. There is no limit on how many owners, editors or viewers are assigned to any project.
Each project will have its own set of roles, separate from the organization level roles. However, any user with a role in the parent organization will have automatically assigned viewer roles in each of the organization's projects. Similarly, any user with a role in an initiative will have viewer roles to all of the projects within that initiative. Read more about roles and permissions.
You can remove any user from a project and revoke their access to that entity by opening the User Permissions box and selecting "Revoke" When someone is removed from a project, all of the data uploaded by that user will remain in the project.
There are three roles that you can assign to team members: Owner, Editor, or Viewer and there's no limit on how many owners, editors or viewers are assigned to any organization. Any user with any role at the organization level will automatically have Viewer access to any of the projects or initiatives associated with that organization.
Project Roles

| | Owner | Editor | Viewer |
| --- | --- | --- | --- |
| Change user role | x | | |
| See data files (images) in project | x | x | x |
| Create and delete data files (images) | x | x | |
| See identifications | x | x | x |
| Edit identifications | x | x | |
| Read deployment metadata | x | x | x |
| Edit deployment metadata | x | x | |