Locations
A location is the physical position (latitude and longitude) of a camera trap device. For projects with multi-year sampling efforts, a location may be associated with multiple camera deployments.
Create a location during image upload
Locations can be selected from an existing list or created when you upload images into Wildlife Insights.
After you select images to upload, you'll be prompted to select a project where the images will be uploaded. During the upload process, you can either select an existing deployment or create a new deployment. If you select an existing deployment, the location is already associated with the deployment.
If you select the New Deployment button, you can then:
Assign the deployment to an existing location by selecting a location from the dropdown list
Assign the deployment to a new location. If you'd like to create a new location, click on the New location button and enter the required details:

Latitude and Longitude (4 decimal places required).
Country. Note: the country will autofill based on the coordinates entered. You may also manually select the country from the drop down menu.
A unique location name.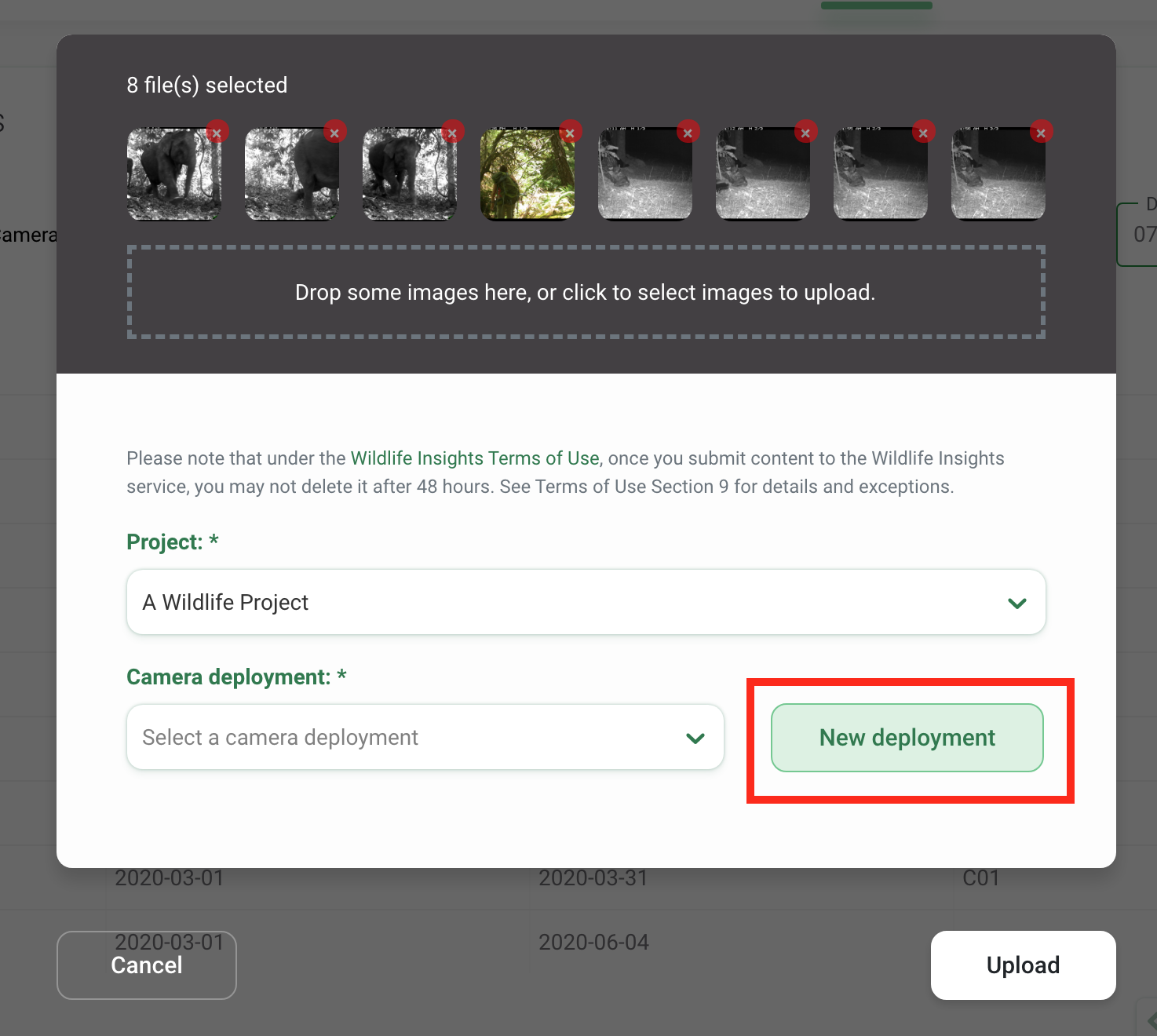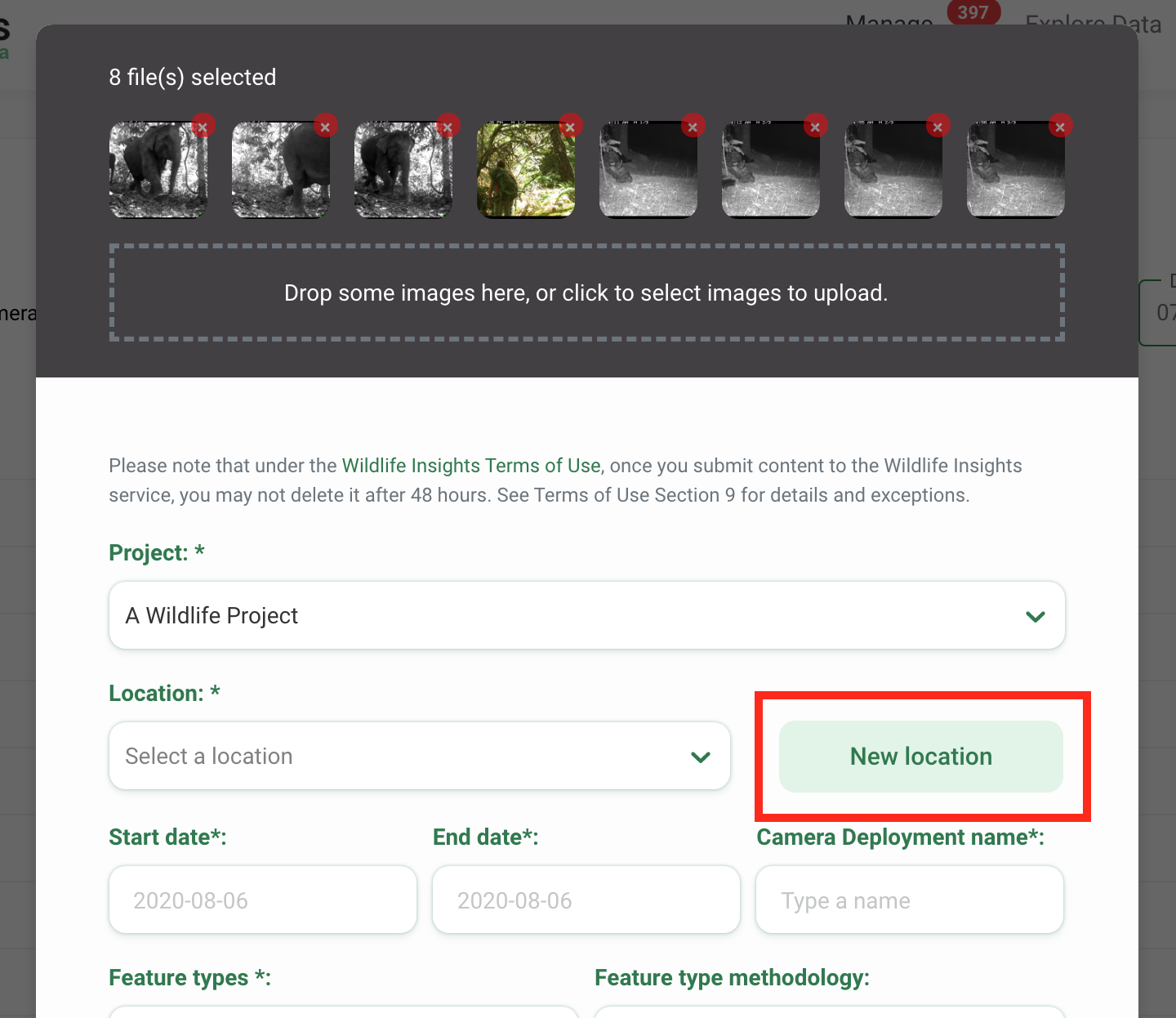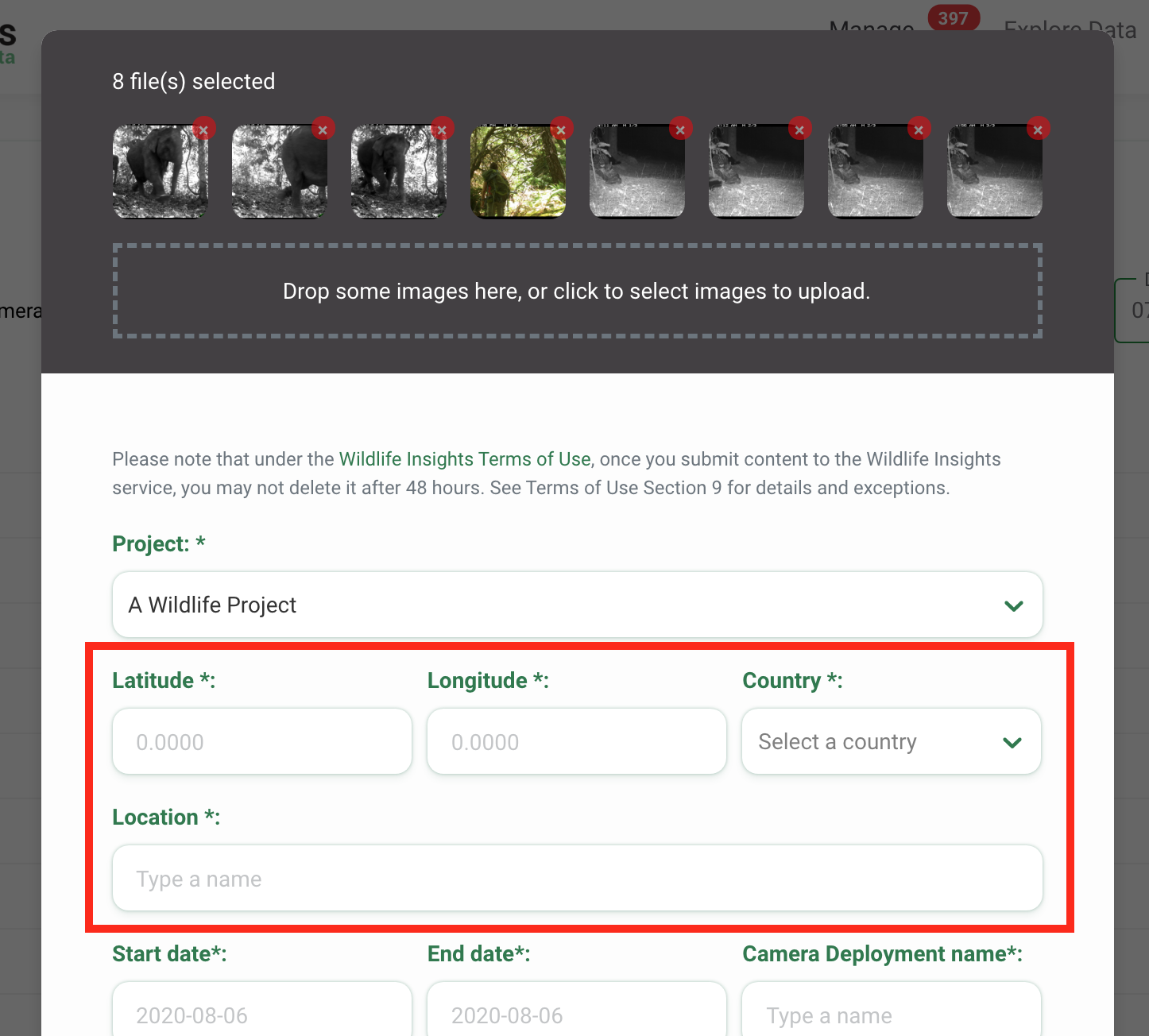 Create a location in Projects Details
You can also create a location or several locations before you begin uploading images. This can help expedite the upload process by pre-populating the location field with a list of your existing locations. To create a location in Project Details:
Navigate to Project Details tab
Scroll to the bottom of the page
You'll find a table of Locations and Camera Deployments.
Click on the green New location button
Enter a Location name
Enter the latitude and longitude coordinates (4 decimal places required)
The country will autofill or you can manually select a country
Click the white Create button to create a location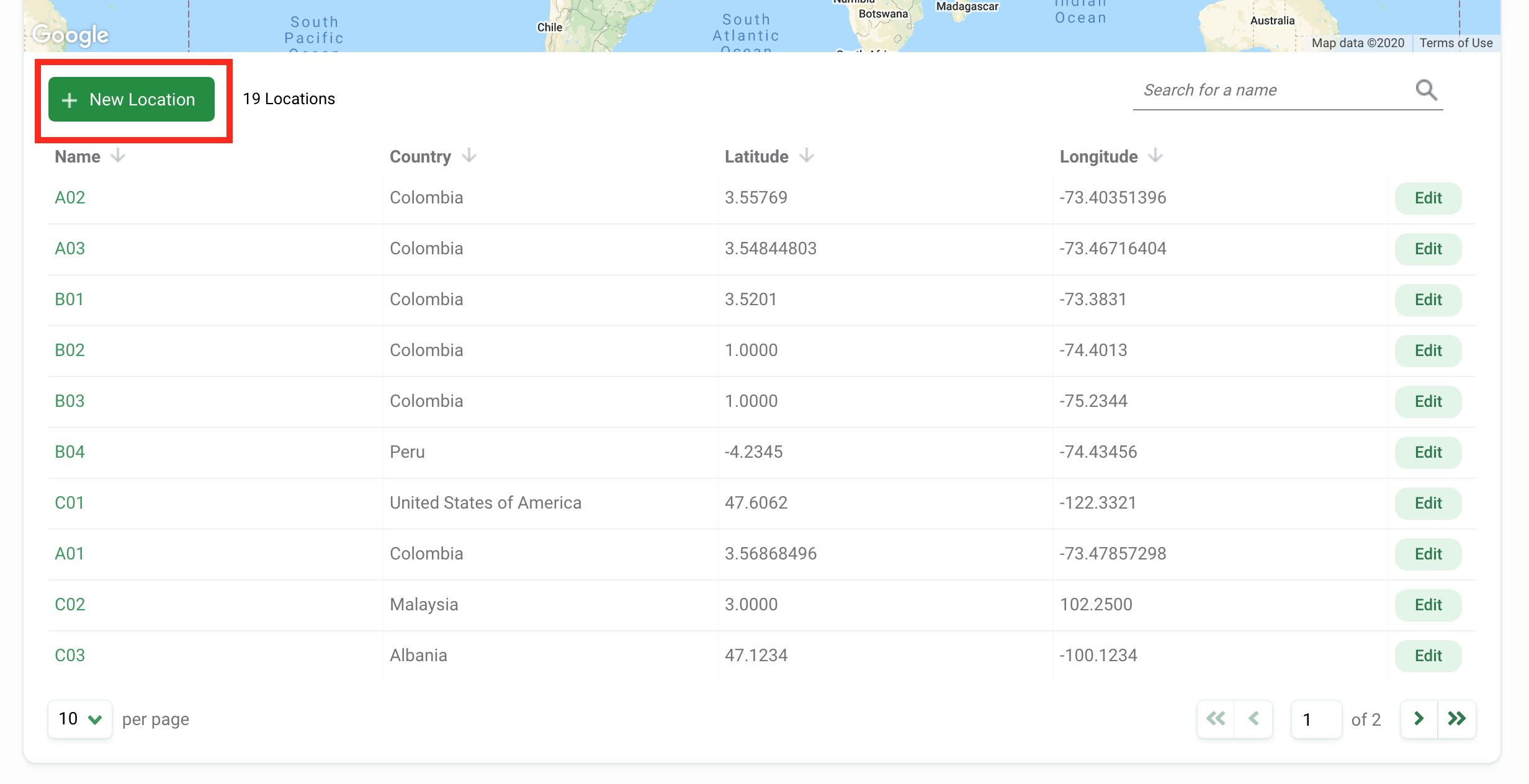 Exit an existing location
To edit an existing location, click the green Edit button to the right of any location record.
If you are editing the latitude or longitude, the green map pin will update to display the location of the updated coordinates.
Once your edits have been made, click on Save Changes to save your edits.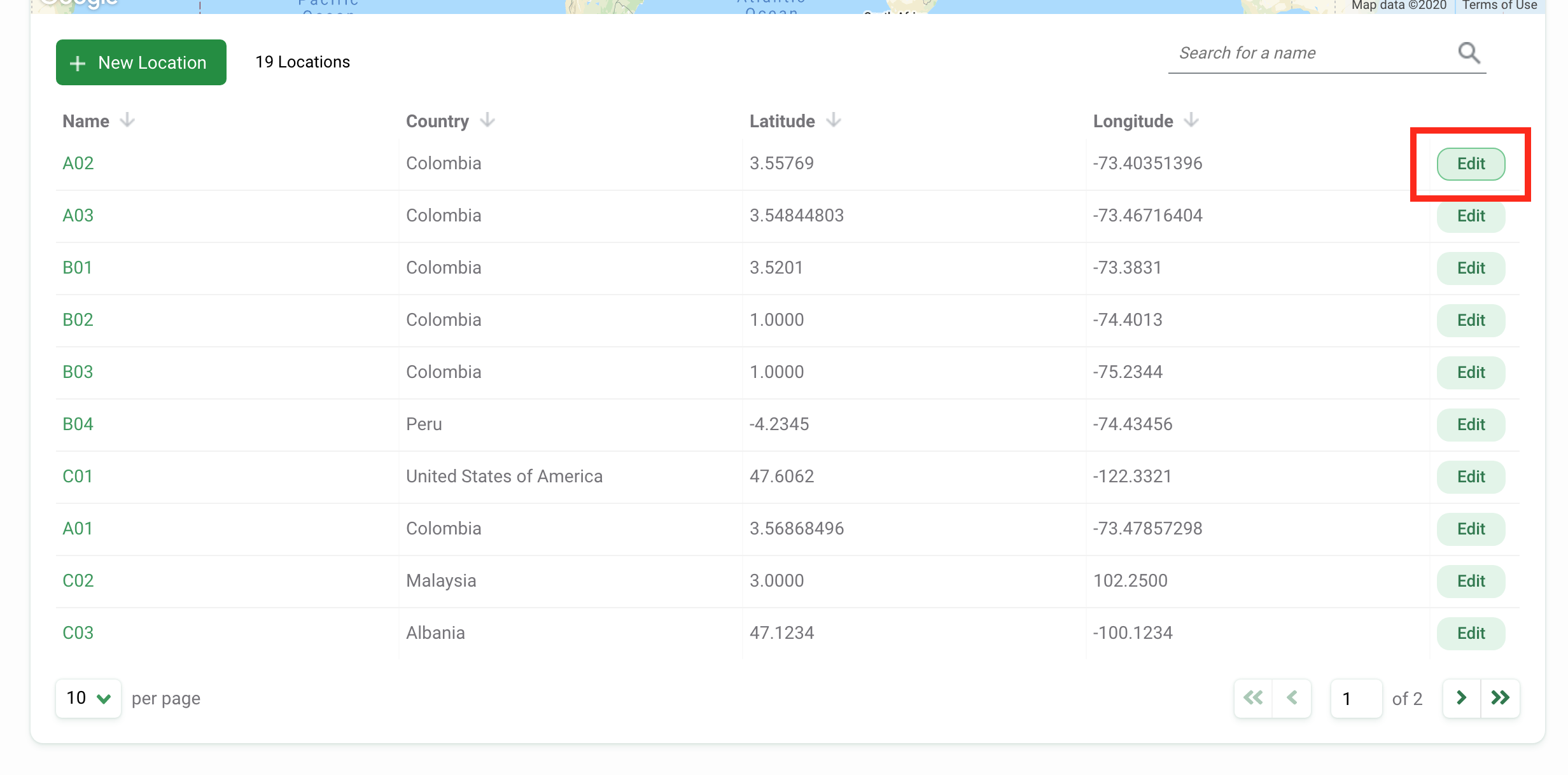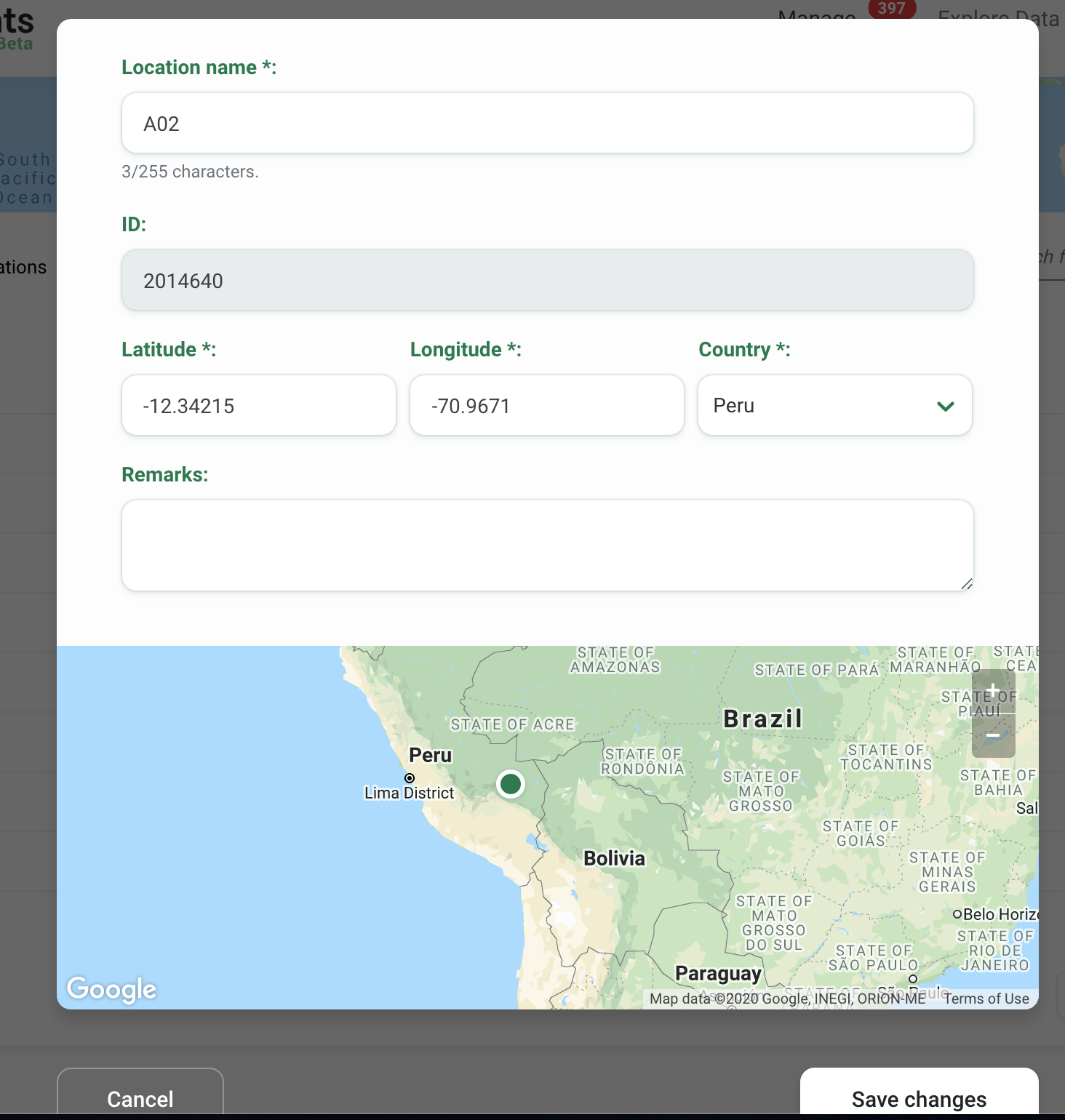 Search for a location
Search for a location by name by typing in criteria in the search box in the right hand corner of the locations table.
You'll see the number of results that match the search/filter criteria appear next to the New Deployment button.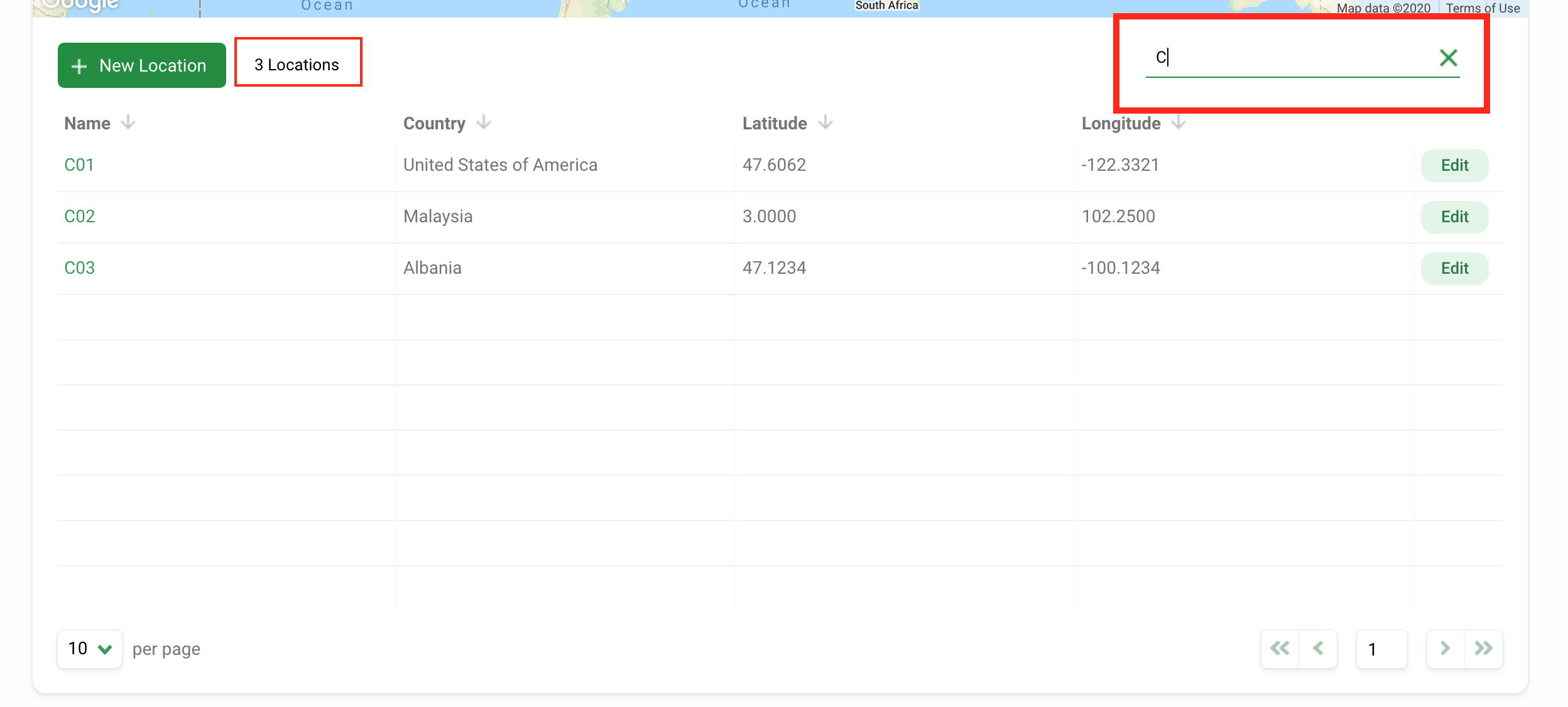 Sort locations
There are a variety of ways to help you sort and filter your locations. Simply click on the arrow next to a column header to sort by that column.
You can sort by:
Name
Country
Latitude
Longitude
The column that is being used to sort locations will display a green arrow next to the column header. You can sort by ascending or descending criteria.

Troubleshooting locations
Can I have two locations at the same latitude and longitude? Yes! Some camera trappers may have paired deployments, or cameras set up within close proximity to another camera. These two locations may be so close that the latitude and longitude are exactly the same. In this case, you can enter the same latitude and longitude for both locations but will need to assign a different name. For example, you could name one location Site 1a and the second location Site 1b.

Can I have multiple deployments at the same location? Yes! Some projects may sample the same location over multiple time periods. For example, you may set a camera trap at Site 1 between June 1-June 30, 2020. That is one deployment. If you set a camera out at Site 1 between September 1-September 30, 2020, that would be a different deployment. Both deployments would be associated with the same location, Site 1.