Public downloads
Wildlife Insights provides access to a growing global dataset of species occurrences from camera traps. These data are available for anyone with a Wildlife Insights account to download and use in accordance with the Terms of Use
Before using data from Wildlife Insights in an analysis or for any other purpose, please read through the Data Download guide to learn more about the data provided.
What data is available for download from Wildlife Insights?
You can download data from any public project in Wildlife Insights. Public downloads will never include:
Data from embargoed projects;
Exact locations of deployments capturing sensitive species;
Images of humans;
Images that have not been confirmed by the data provider.
After you request a download, you'll receive a package that includes:
Projects.csv: metadata about project methodology and objectives;
Cameras.csv: metadata about the devices (cameras) used in the project;
Deployments.csv: metadata about the placement of a camera, including start date, end date, coordinates and other camera settings;
Detections: data about the animals detected by the camera traps are reported in one of two ways depending on how the data was recorded:

Images: data about each individual image, including species identifications and date/time;
Sequences: data about a sequence of images including species identifications and date/time. These are used for rapid bursts of images that typically represent one animal or animal group.

Quick guide to data use and citations;
Wildlife Insights data dictionary: definitions for each field in the files provided; and
Terms of Use.
Verifying data
All users contributing data to Wildlife Insights retain ownership of their data and are responsible for reviewing and editing computer vision identifications in their projects. While Wildlife Insights provides tools for users to process and edit data as needed, Wildlife Insights cannot guarantee the accuracy of identifications available to the public.
How do I know if the identifications in my download are correct?
Every download package from Wildlife Insights includes a record of the most recent identification associated with an image. The record will detail the identification (class, order, family, genus and species), individual animal details (age, sex), and the name of the most recent identifier, along with other metadata.
In many cases, the most recent identifier will be the name of a user associated with that project. This means that the image has been reviewed and/or edited by that user. This information can be found in the images.csv file in the column titled identified_by. In the example below, the reviewer's name is Nicole Flores.

In other cases, the most recent identifier in the identified_by column is Computer Vision. This means that the image has been uploaded, has passed through the computer vision model, but has not been reviewed by a user. In the example above, you can see the Computer Vision model has predicted there is one image of a Margay and one image of a Human. These identifications have not been confirmed by a user.
You can assess the accuracy of the computer vision results by referencing the column titled cv_confidence. Read more about interpreting computer vision results on our About AI page.
Filter data
Use filters to find the information that's most important to you. When you visit the Explore page, you can search for data by clicking on the "See filters and statistics" text. Here you can use the green filters to search by Species, Country, Time or Project.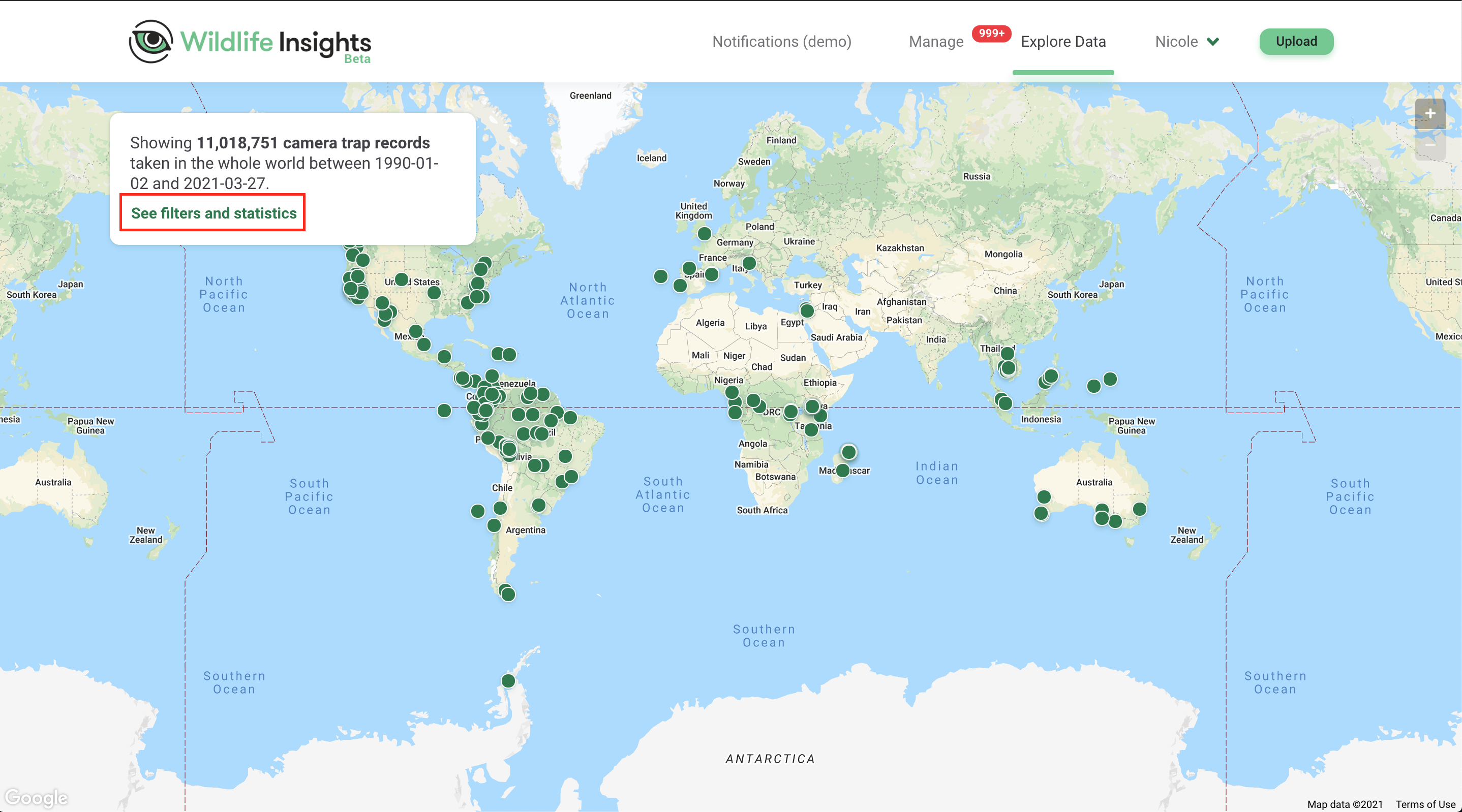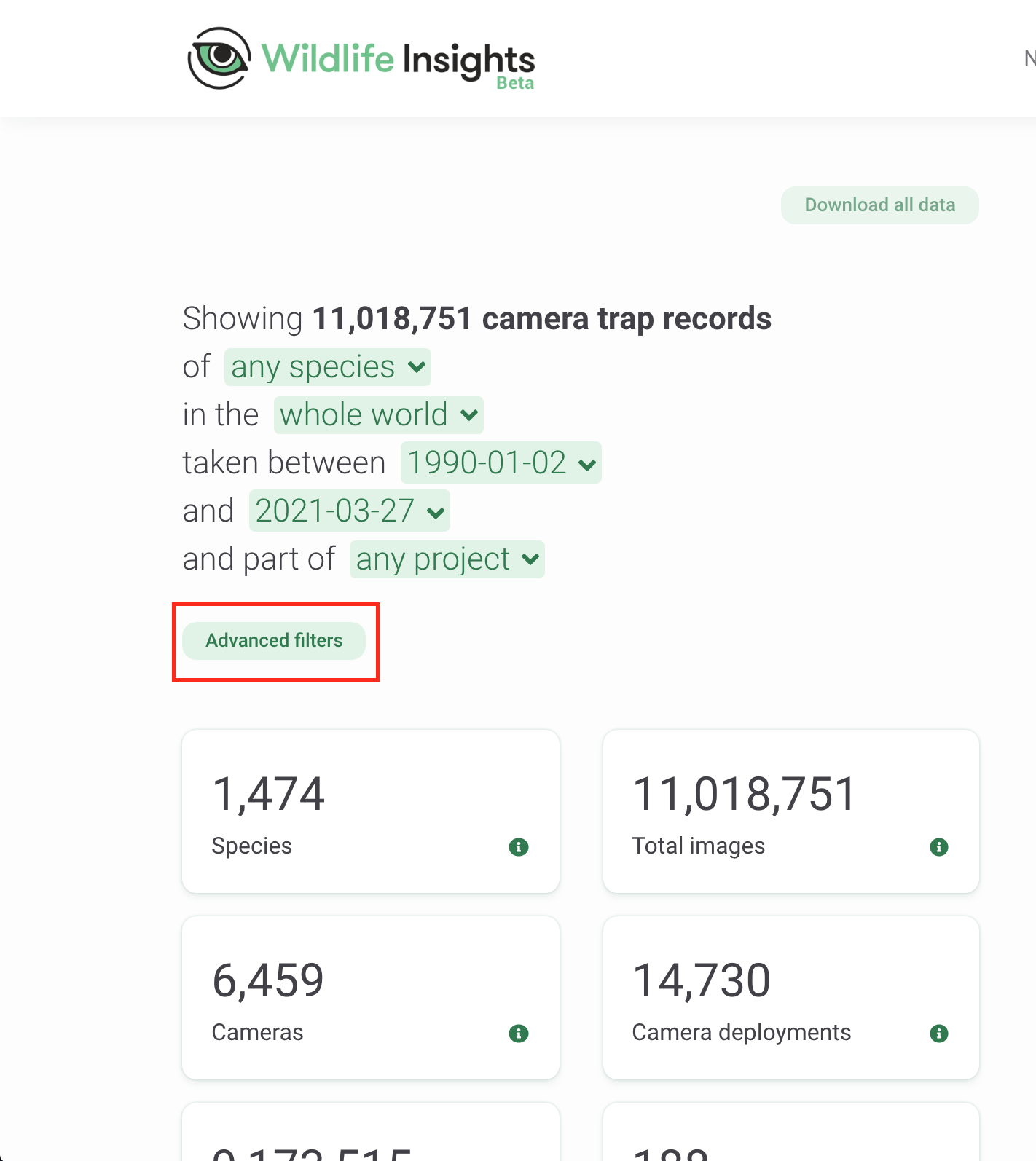 Click on the Advanced Filters button to search by more fields. The categories available are listed in the left column.
In the center column, you'll see the filters available within the selected category.
Select the filters that you want to apply by checking the box next to the filter. As you apply filters, your selections will appear in the right hand column.
You can edit your selections at any time by simply clicking the "X" next to the filter name. You can also clear your selection by clicking on "Clear all".
Once you're done selecting filters, scroll down and click on the green "Apply" button. You'll see the number of filters applied and the statistics will update based on your selection. The map will also update to display the projects that have data relevant to your search.
If you need to alter your selection, you can click on the Advanced Filters button to bring the screen back up. The filters can be cleared by clicking the "X" on the " # Advanced filters applied" button.
Requesting a download
Once you've selected a dataset, you can download the data by clicking on the Download data button in the top right hand corner of the white screen.
If you aren't logged in, you'll be prompted to log in to your account or sign up for an account.
Once you're logged in, you'll be asked to answer questions about the intended use of the data that you are downloading. Once you've selected answers, you can submit the download request.
The download request may take several minutes to several hours to process, depending on the size of the package. Once the package is processed you'll receive an email with a link to complete the download.
Every download from Wildlife Insights will include:
Projects.csv: metadata about project methodology and objectives;
Cameras.csv: metadata about the devices (cameras) used in the project;
Deployments.csv: metadata about the placement of a camera, including start date, end date, coordinates and other camera settings;
Detections: data about the animals detected by the camera traps are reported in one of two ways depending on how the data was recorded:

Images: data about each individual image, including species identifications and date/time;
Sequences: data about a sequence of images including species identifications and date/time. These are used for rapid bursts of images that typically represent one animal or animal group.

Data use & citation guide;
Wildlife Insights download dictionary: definitions for each field in the files provided; and
Terms of Use.
Note: Wildlife Insights places certain restrictions on data to protect sensitive or private information, which includes locations of sensitive species, images of humans, and embargoed projects. Continue reading here to learn more about how sensitive species data are protected by Wildlife Insights.
Citing projects
Anyone who wishes to download data from Wildlife Insights must agree to the Terms of Use, which require a data user to provide attribution to the dataset creator/creators as required by the license assigned to the dataset.
All projects licensed under CC BY or CC BY-NC require a data user to provide attribution. Wildlife Insights makes it easy to provide attribution by providing a list of data citations for each project in the projects.csv file, which is part of the download package. Please refer the projects.csv file to view the recommended citations and licenses for the projects in your download.
Projects in Wildlife Insights are also assigned a ARK (Archival Resource Key), which is a persistent, permanent link to a project and dataset.
Wildlife Insights suggests citing projects using the following format:
References:
Author(s) (Year accessed from Wildlife Insights). Project name. DOI. Accessed via Wildlife Insights on dd-mm-yyyy.
Example: Ahumada J, Schipper J (2020). Cafe Fauna. http://n2t.net/ark:/12345/bcd987 accessed via Wildlife Insights on 03-10-2020.
In-text citations:
Example: Data used in this study were accessed from Wildlife Insights on date (Ahumada & Schipper, 2020)
For additional information on citations, Wildlife Insights recommends reading GBIF's citation guidelines.
NOTE: Many projects in Wildlife Insights are ongoing and are continually updated. If you download the same project(s) at different points in time, the resulting dataset may differ. If you plan to publish a scientific manuscript using data from Wildlife Insights, we recommend publishing the dataset used in an open-access public data repository.
Viewing images in a public download
You can view individual images that are included in your download request by opening the images.csv file in the download package. Next to each record there is a link to open the image. You may view the image but it is not available for download.
Note: Images are only available for records that have been verified by the project staff.
Contacting project owners
You can contact the owner(s) of a project by sending them a message through Wildlife Insights. To send a message, visit the detailed project page on Wildlife Insights. You can access this page by clicking on the project's dot on the Explore map, then clicking on the green "See details" button.
On the detailed project page, you'll see a green "Contact" button. Click on this button and enter a subject and a message, then click Send. Your email address and message will be sent to the project owner(s), who will be able to contact you via email.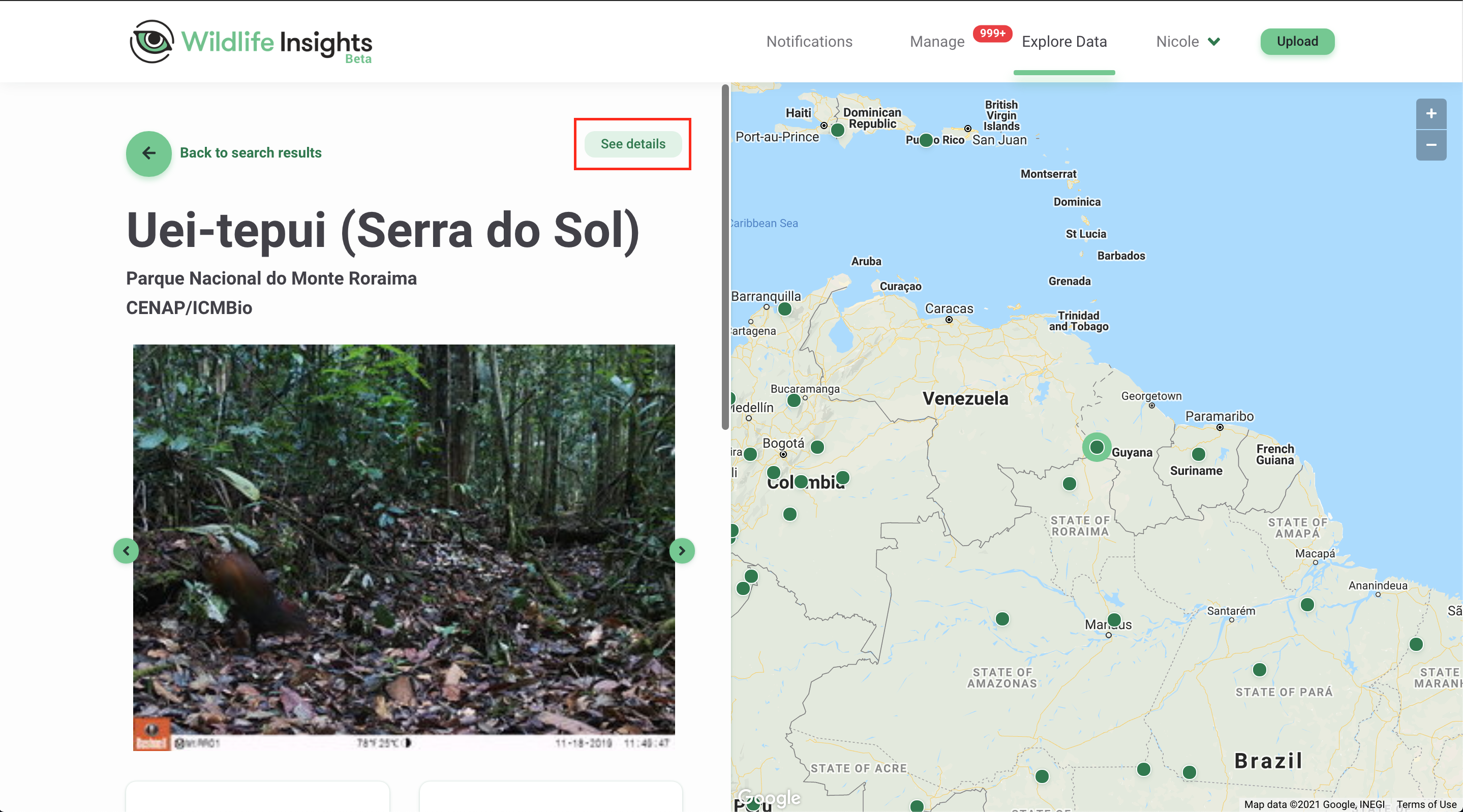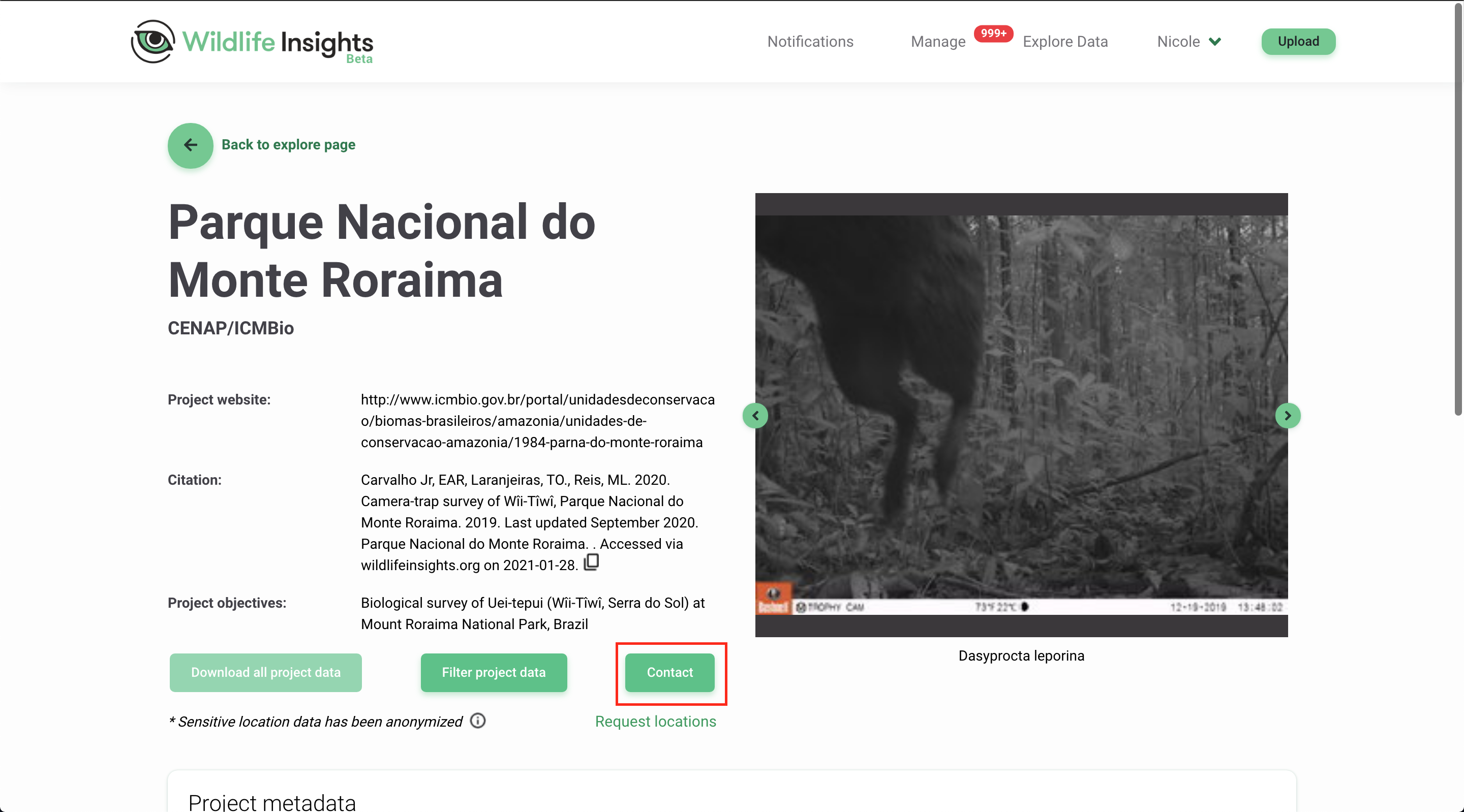 Requesting access to sensitive species locations
By default, Wildlife Insights obscures and/or removes sensitive data from pubic download packages. Sensitive data may include images of humans, coordinates associated with sensitive species, and embargoed projects.
You can request access to sensitive species data by sending a request to the project owner(s). It is up to the project owner(s) to accept or deny your request. To send a request, visit the detailed project page on Wildlife Insights. You can access this page by clicking on the project's dot on the Explore map, then clicking on the green "See details" button.
On the detailed project page, you'll see several green buttons. Below those buttons is a clickable green text, "Request locations". Once you submit your request, the data provider will be able to approve or deny your request via their notification page in Wildlife Insights.